So it's been exactly 4 days and 8 hours since I first binge watched Season 3 of Anne With an E (after binging S1 &2 for the 53rd time), and I am still NOT OKAY. I went through 1.5 boxes of tissues, stayed up WAY too late, and have been in an emotional haze ever since. Guys, I can say with all sincerity and honesty that I cannot remember the last time a show, book, or movie had such a deep and lasting impact on me. It feels a little like first love; you know the feeling, I'm sure. Always on your mind, you can't sleep without it permeating your dreams, you feel a little out of it, and your appetite wans. It makes zero sense, but there it is.
The real problem is that this love feels like a tragical romance. Because Netflix and the CBC have decided that our wonderful, amazing, incredible, magical Anne With an E is done, despite the fact that the show's creator scripted it for 5 seasons. So we are left with an ending that was beautiful and perfect, but utterly incomplete as a series finale. A season finale, definitely, but not The End.
Since Sunday I have rewatched several episodes, cried a good deal, watched clips, gotten teary-eyed at my desk at work, inhaled fanfiction, and fangirled like crazy. Most importantly, I found myself part of the amazing fandom that exists for this show, and tried to aid in their efforts to get the show renewed. It's a long shot, we know, but not unheard of! The world needs more content like Anne With an E. More positivity and empowerment and bright wondrous hope.
This gorgeous graphic was designed by Myriam, a fellow fan on twitter! It perfectly lists all of the amazing issues that Anne With an E tackles through the three seasons of the show. Because this show is not JUST an adaptation of a beloved series, but a testament to all that is good in the world and all that we can do to make it a better place.
It is also filled with the sort of relationships that we can look up to and aspire to have. Kindred Spirits. True Love. Family. Anne and Diana give us a shining example of best friends. Anne and Cole show us that acceptance can change lives. Marilla and Matthew give us family, as do Bash and Gilbert. And, of course, we have Anne and Gilbert, my forever OTP.
It is no spoiler to say how much I adore these two, and want every good thing in the world for them. The show does an amazing job building their relationship, something even the books (half of which take place during their courtship and through their marriage) fail to fully elaborate. It is sweet and perfect and wonderful. BUT WE NEED MORE! The way season three ended (I refuse to refer to it as the Final Season until all hope is lost) left us with so many unanswered questions (WHAT ABOUT Ka'kwet?!?!?!) and FAR too little of the Anne-and-Gilbert we all are desperate for.
Which brings me to The Fight.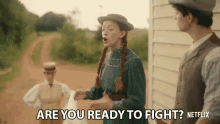 The fandom is pushing HARD, guys. We have been trending on Twitter, gotten ACTUAL STARS to join the cause (RYAN REYNOLDS YOU GUYS), and gotten almost 100k signatures on the official petition!!!
If you want to join the cause, there are so many ways you can help! Allow me to share!
First, SIGN THE PETITION. This takes half a minute and is easy and quantifiable data for us! Just sign it once – we don't want to flood it with false names!
Secondly, tweet, retweet, and do it all again. Use the "official" hashtags of #renewannewithane #saveannewithane #annewithane and tag Netflix, the Anne With an E account and the CBC Anne With an E account whenever possible! Some data shows that using too many hashtags flags a post as spam, so just limit it to one or two!
Follow the "official" organizers of the movement. These accounts have been spearheading things and organizing efforts, and are a wealth of resources. The Avonlea Gazette, Potato Light Bulbs Forever, and AWAE Fan Projects accounts are all global and fabulous.

Netflix itself has responded to fans by providing a link to their suggestions page! This is so promising, as it means they are at least willing to entertain the idea of bringing it back should popular demand make it worthwhile to them. I

implore

you to

follow this link

and submit a request for "

Anne With an E Season 4"! It takes mere moments and every bit helps!!

Visit the Anne With an E IMDB page and rate it! If you have a few extra minutes, rate each of the episodes as well (its very quick and easy to do). This helps the show get more clout, plus helps it show up in various Top lists.
Consider donating to the GoFundMe page! We are funding advertisements for the show (including a billboard!) to help gain more viewers and followers to the cause!!
WATCH THE SHOW! WATCH IT AGAIN AND AGAIN! And on LEGAL channels! Don't download pirated versions or stream it on some weird sketchy website. Let's do this right!
Encourage others to watch it, and help get those views up! These initial few weeks are especially critical, since that's when Netflix will be paying closer attention to numbers!
Make sure you RATE IT ON NETFLIX! This seems like a no-brainer, but I literally forgot this was a thing until yesterday!
Spread the love FAR and WIDE! Make our voices heard! We can make a difference! The wonderful thing is that every little bit helps, and it takes so little time or effort to add impact.
I'm not sure how long my lovesick feels will last, but I can say without question that this will be a show that resonates with me forever more. It has taken up firm residence in the part of my heart that holds Harry Potter, my other lifelong fandom. It's in good company, and I am glad to have such a wonderful and uplifting show makes it way into my life. For now I will keep binging the show, spreading the word, and sending my dearest wish of renewal out into the universe. In this day and age, where life often seems like a "perfect graveyard of buried hopes", who couldn't use a dream to hold on to?
---
Have you watched Anne With an E yet?! If so, PLEASE fangirl with me in the comments and find me on Twitter or Instagram if you want to chat in detail! I'd love to meet more Kindred Spirits!