I found this awesome tag over at Happily Ever Book Nerd, so thank you Alex for sharing it! This tag originally comes from The Orangutan Librarian and is all about exceptions to the rule for things we usually dislike in reading. This was such a fun tag, so I hope everyone enjoys!
---
#NotAll Cover Changes — A cover change you liked
Basically all of the different HP covers!!! I am making it my life's work to collect all of the different editions that I can lay my Potter-Loving hands on. In fact, I have done a few posts about these glorious covers. You can see my HPatPS list here, and my HPatCoS post here!
---
#NotAll Adaptations — A movie adaptation you love more than the book
To All the Boys I've Loved Before. I rated the book 3/5 stars because it was just meh. Book LJ came across super young and more than a little naive (not in a good way). The movie literally addressed all of my issues with the book, and made it into exactly what I wanted! It doesn't hurt that it is perfectly cast!
---
#Notall Tropes — A trope you'll never tire of seeing
Friends-to-lovers and fake dating! I adore these tropes, and especially love when they are combined because that's just the best. The Fill-In Boyfriend is a great fake dating story, and Playing Her Secret Crush is best-friends-to-lovers at its angsty finest.
---
#NotAll Instalove — You instaloved this instacouple
Andie and Clark from The Unexpected Everything? They start up their relationship pretty early on, and I loved them together! Not exactly "instalove" in the strictest sense, but still love without all sorts of hurdles to leap before the kissing starts.
---
#NotAll Love Triangles — An example of a love triangle done well
Jem-Tess-Will from The Infernal Devices and Mark-Cristina-Kieran from The Dark Artifices. Cassie Clare is the queen of Love Triangles. She writes them beautifully and handles them perfectly. With most triangles I find myself leaning heavily towards one direction or the other (and the author definitely writes a slant as well), but these two triangles make it impossible to choose your OTP. No spoilers, but the outcomes of both are amazing.
---
#NotAll Parents — Bookish parents, that you know, parent!
Molly and Arthur Weasley! I can't think of a more amazing pair of fictional parents than these two. They raised a hoard of their own children AND welcomed Harry into their family with open arms and lots of love.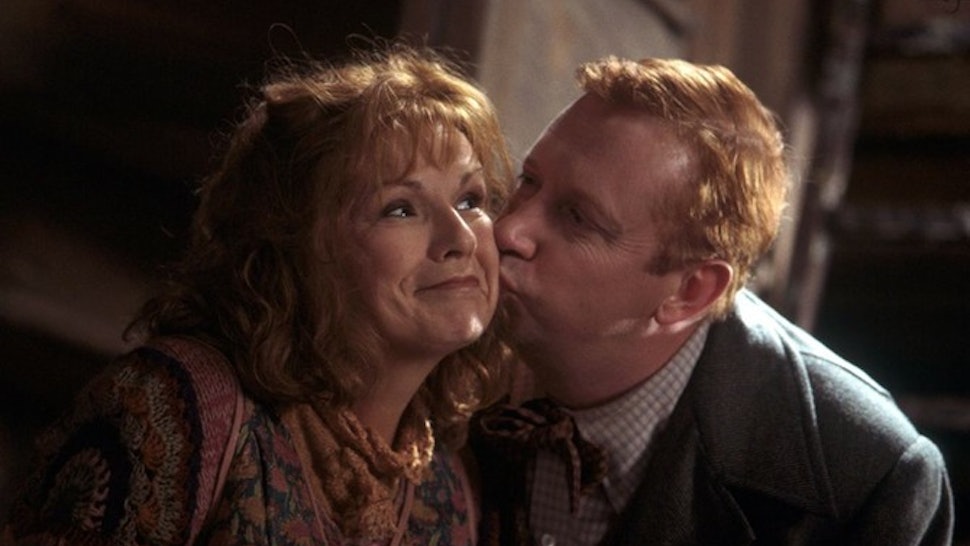 ---
 #NotAll Villains — A villain you love
I…actually can't think of one for this. All of the "usual" loved villains (Snape, the Darkling, etc) are characters that I don't like. I'm sure there's one out there that I just bring to mind right now, so I will have to pass on this for the time being.
---
#Notall Chosen Ones — A chosen one you can get behind
Harry Potter of course! I actually enjoy the Chosen One trope, so this one was pretty easy for me. Harry is my very favorite character from the HP series (um, it's literally named after him. He's that awesome) and is the quintessential Chosen One.
---
#NotAll Hyped Books — A book that lived up to the acclaim
Nevernight by Jay Kristoff. Kingdom of Ash by Sarah J Maas. Finale by Stephanie Garber. These books are/were all super hyped and I loved them so much. I don't always jump on the hype-train, but sometimes the pull is irresistible.
---
#NotAll *Insert Favorite Genre* — A book you're not keen on from your favorite genre
This list is actually pretty extensive. I am pretty picky about what I read, so there are plenty of books that I haven't picked up because I know I won't like them. Probably the biggest example of this would be The Raven Cycle by Maggie Stiefvater. It gets so much hype and yet I just can't seem to garner any interest in it.
---
#NotAll *Least Favorite Genre* — A book you liked from a genre you don't often read
The Poisonwood Bible by Barbara Kingsolver. My favorite book of all time, this is an adult historical fiction book that I had to read for High School AP English. I rarely deviate far from YA, and when I do its usually still into Fantasy, SciFi, or Romance. This is none of those things, but I love every single page of it.
---
I tag anyone who wants to join in on this super fun tag!!