I was SUPER excited when TLC Book Tours reached out to see if I would be interested in reviewing and touring the latest book from Sarah McCoy, Marilla of Green Gables. I love anything and everything Avonlea related, and had such high expectations for this book! I was not disappointed. Before I get too much into my feels, let's get a synopsis!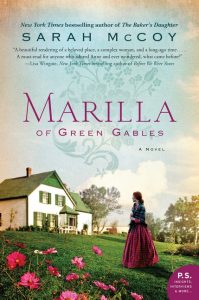 ---
About Marilla of Green Gables
A bold, heartfelt tale of life at Green Gables . . . before Anne: A marvelously entertaining and moving historical novel, set in rural Prince Edward Island in the nineteenth century, that imagines the young life of spinster Marilla Cuthbert, and the choices that will open her life to the possibility of heartbreak—and unimaginable greatness.
Plucky and ambitious, Marilla Cuthbert is thirteen years old when her world is turned upside down. Her beloved mother dies in childbirth, and Marilla suddenly must bear the responsibilities of a farm wife: cooking, sewing, keeping house, and overseeing the day-to-day life of Green Gables with her brother, Matthew and father, Hugh.
In Avonlea—a small, tight-knit farming town on a remote island—life holds few options for farm girls. Her one connection to the wider world is Aunt Elizabeth "Izzy" Johnson, her mother's sister, who managed to escape from Avonlea to the bustling city of St. Catharines. An opinionated spinster, Aunt Izzy's talent as a seamstress has allowed her to build a thriving business and make her own way in the world.
Emboldened by her aunt, Marilla dares to venture beyond the safety of Green Gables and discovers new friends and new opportunities. Joining the Ladies Aid Society, she raises funds for an orphanage run by the Sisters of Charity in nearby Nova Scotia that secretly serves as a way station for runaway slaves from America. Her budding romance with John Blythe, the charming son of a neighbor, offers her a possibility of future happiness—Marilla is in no rush to trade one farm life for another. She soon finds herself caught up in the dangerous work of politics, and abolition—jeopardizing all she cherishes, including her bond with her dearest John Blythe. Now Marilla must face a reckoning between her dreams of making a difference in the wider world and the small-town reality of life at Green Gables.
---
The Review
This book made my Anne Shirley loving heart very very happy! I love anything Green Gables, and so I knew I had to read this! The story follows Marilla, who we previously only know as the rather stern, if loving, woman who adopts and raises Anne Shirley. This gives us her whole backstory and shows readers how she became the Marilla we know and love.
First off, I have to commend the author for how she split up the "acts" of the book! She pulled from the various Anne books and gave us "Marilla of Green Gables", "Marilla of Avonlea", "Marilla of the Island", and "Marilla's House of Dreams". I loved this little touch back to the original series. I can happily say that the author also did a great job keeping a similar tone in her book, making it feel like a natural extension within the universe.
The difficulty with a prequel type story is that we already know the outcome of the characters, but this never suffered for that. Instead, we got to see plenty of old favorites! Rachel, Marilla's best friend, is featured prominently in the book, and even has a spark to her as a youth that reminds me very much of Anne herself! We see Marilla be courted by John Blythe (something she very briefly mentions in the original series), and all of the heartache that comes from that. When Marilla loses her mother, she blames it on the fact that she was out with John and not at home. She makes her mother a deathbed promise to take care of her father and Matthew, and these events combine to start the hardening of Marilla's heart.
What surprised me most of all was seeing how much Marilla actually enjoyed – and even wanted – children in this book. Not only that, but we also learn she is a bit of a dreamer herself, and loves to learn, something that she sort of hides away as she ages. We know her only as the rather no-nonsense woman Anne meets, and the slow thaw of her love. It added some serious depth to her character to see her younger self's hopes and dreams.
All in all, I really loved this book! I would highly recommend it for fans of Anne of Green Gables and the world L.M. Montgomery built in Avonlea. I have included the purchase links below, so go grab a copy today!! Now I am going to go binge read the Anne series and watch Anne-with-an-E on Netflix. 😉
---

Purchase Links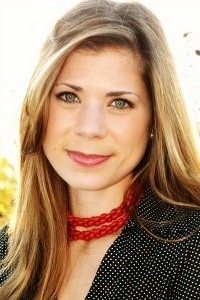 ---
About Sarah McCoy
Sarah McCoy is the New York Times, USA Today, and internationally bestselling author of the novels The Mapmaker's Children; The Baker's Daughter, a 2012 Goodreads Choice Award nominee; and The Time It Snowed in Puerto Rico. She has taught English and writing at Old Dominion University and at the University of Texas at El Paso. She lives with her husband, an orthopedic sports surgeon, and their dog, Gilbert, in North Carolina.
Sarah enjoys connecting with her readers on Twitter at @SarahMMcCoy, on her Facebook Fan Page, on Instagram at @sarahmmccoy, or via her website, www.sarahmccoy.com.
---