I was provided with a free copy of Chilling Effect, courtesy of TLC Book Tours, in exchange for a fair review, and I am super excited to talk about this fun and funny new release! I have been feeling pretty burnt out lately with reading (I blame my Red Rising series reread followed by my Nevernight trilogy reread/Darkdawn hangover), and this book was such a nice departure from my usual. It's important to state that this book is not YA, although I do think the content is more than okay for a YA reader. It features plenty of sass, a good dash of humor, and a whole lot of dry wit. The author is Cuban America (I included her bio at the bottom of this post) and she sprinkles plenty of her heritage into the plot, to great effect! Before I get to my full review, let's get a summary!
---
About Chilling Effect
A hilarious, offbeat debut space opera that skewers everything from pop culture to video games and features an irresistible foul-mouthed captain and her motley crew, strange life forms, exciting twists, and a galaxy full of fun and adventure.

Captain Eva Innocente and the crew of La Sirena Negra cruise the galaxy delivering small cargo for even smaller profits. When her sister Mari is kidnapped by The Fridge, a shadowy syndicate that holds people hostage in cryostasis, Eva must undergo a series of unpleasant, dangerous missions to pay the ransom.
But Eva may lose her mind before she can raise the money. The ship's hold is full of psychic cats, an amorous fish-faced emperor wants her dead after she rejects his advances, and her sweet engineer is giving her a pesky case of feelings. The worse things get, the more she lies, raising suspicions and testing her loyalty to her found family.
To free her sister, Eva will risk everything: her crew, her ship, and the life she's built on the ashes of her past misdeeds. But when the dominoes start to fall and she finds the real threat is greater than she imagined, she must decide whether to play it cool or burn it all down.
---
The Review
I really enjoyed this book! It was a light enough read so as to not irritate my book hangover, but had enough twists, turns, and adventure to keep me chuckling. We have a diverse and unique cast of characters, some psychic cats, and a crazed fish guy. It borders on absurd, but in the very best ways. Let's meet our key players, shall we?
First up we have our illustrious Captain, Eva-Benita Caridad Larsen Alcarez y Ciopel de Innocente. Captain Eva Innocente for short. She is super full of sass and is very much a "jump in feet first and hope everything works out" kind of gal. It becomes a sort of running joke that her version of a plan is "we will figure it out as we go", and this leads to some pretty funny – if harrowing – experiences.
We also have Vakar, the engineer on the ship. He is quennian, a race that sort of resemble pangolins and which emanate strong scents based on their current emotions. For example, when they are nervous, it smells like tar. Beyond just the engineer, he is the love-interest of the story. He's fiercely loyal, fairly soft-spoken, and very sweet.
The rest of the crew includes Leroy, a former soldier in charge of cargo and anything needing muscle. Covered in digital tattoos, with flaming red hair, he looks scary but is really a softy. Pink is the medic, and rocks dreadlocks and a cybernetic eye. She is basically Eva's best friend, and calls her BS often. Finally we have Min, the pilot, who spends her time synced mentally with the ship. She also enjoys playing MMORPGs, because apparently real-life space travel isn't exciting enough.
I really loved the dynamic of the crew. We see them in some rather intense situations, and they handle it with as much humor as resignation. Some of my favorite moments in the book are the most ridiculous; I love that they have landed themselves with 20 cats that have been genetically engineered to have mind control abilities. Perhaps even funnier than dealing with those, is their continuous attempts to find a buyer for said cats, and the responses they get to the ad they've placed. "Are they fresh"? "Can they operate heavy machinery"? "Are they uniform in size and capable of handling zero grav"? I chuckled every time.
My other favorite situation involves Eva being sent to kidnap this giant bird/T-Rex/monster alien creature, which she has to track back to it's pyramid-like house in the middle of a jungle. While she lies in wait, said alien takes his wife for a picnic, accuses his wife of having an affair with the butler, at which point the wife accuses him of an affair with another "woman" (who shows up), and then he confesses his love for the butler. And then they all jump each other in a weird sort of fight-slash-orgy. Meanwhile Eva is hiding behind a rock completely unfazed by the literal soap opera unfolding in front of her, and lamenting about the oddities of the rich. So absurd.
I could keep going on about all the awesome parts of this book, but I will just say that it is 100% worth the read! I do want to say that there is a fair amount of Spanish dialogue mixed into this book. As someone who hasn't taken Spanish since the early 2000's, I understood less than 10% of it, although much could be inferred from context, and it did not detract from the story for me at all. However, I suspect I am missing out on ample humorous snark by not knowing what's being said. Given the choice, I would actually love to read this as an eBook where I could have the ability to highlight and translate. If you don't have a strong grasp of Spanish, I might suggest the same route!
Super thank you, again, to TLC Book Tours for including me on this tour and giving me the change to read and review this book. I will definitely keep Valerie Valdes on my radar, and check out more of her works in the future!
---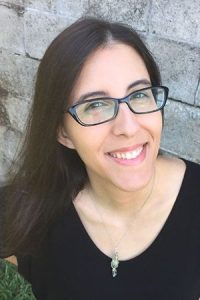 About Valerie Valdes
Valerie Valdes's work has been published in Nightmare Magazine, Uncanny Magazine, and the anthologies She Walks in Shadows, and Time Travel Short Stories. She is a graduate of the Viable Paradise workshop and lives in Miami, Florida with her husband and children.
Find out more about Valerie at her blog, and follow her on Twitter, Facebook, and Instagram.
---
Purchase Links